Land Rover Defender News: Fan Reactions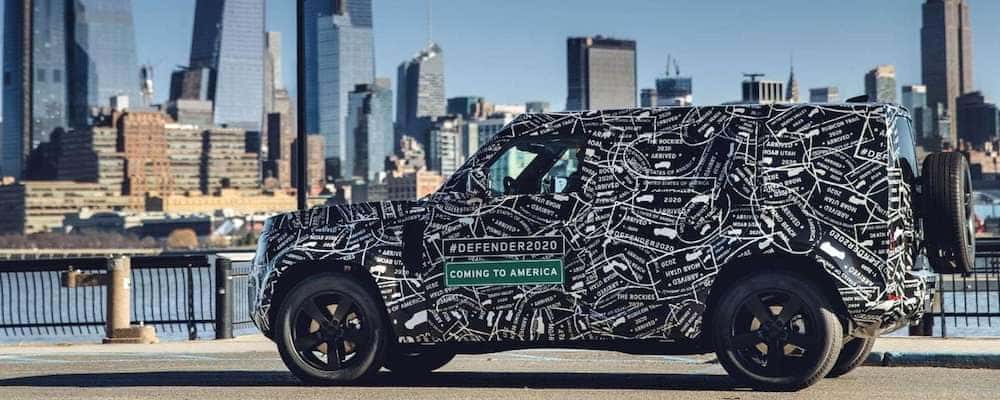 At the Land Rover 70th anniversary last year, it was announced that the company would be bringing back the Land Rover Defender, and the buzz of excitement began to grow. The 1955 Land Rover Defender remains a fan favorite to this day, and many people were hopeful that the 2020 Land Rover Defender would echo its design. Learn more about fan reactions to the upcoming off-road-ready SUV, and contact us keep up with the latest Jaguar Land Rover news in Rockville Centre!
2020 Land Rover Defender Design
Land Rover design chief Gerry McGovern is a self-proclaimed modernist, so it's no surprise that the newest teaser photos of the camouflaged 2020 Defender revealed an aggressive and modern profile with dramatic lines and sharp angles. However, some Defender fans were disappointed that it wasn't more of a callback to the older Defender body styles.
While brainstorming designs for the Defender concept car, there were many challenges to address in order to honor the Defender legacy while excelling in a modern automotive market:
The new model must be watertight to contend with off-road vehicles from Mercedes-Benz, Jeep, and other competitors.
It must meet modern emissions requirements and be relatively fuel-efficient (to avoid going the way of the Hummer).
It must appeal to consumers globally and be priced to ensure the continued success of the model. (The previous model was mostly hand-built and not very lucrative for Land Rover.)
It must have advanced safety technology and driver-assistance features that will protect both passengers and pedestrians.
The 2020 Land Rover Defender interior must be packed with function while also having the premium design and comfort worthy of the Land Rover name.
While die-hard enthusiasts of the classic Land Rover Defender 90 and Defender 110 models might not be on board with the most recent design news, we would suggest reserving judgment for when the Defender is officially released. Once off-roaders see what the Defender can do with features like Terrain Response® and even more advanced technology, they might be changing their tune.
Stay In Touch for the Latest from Land Rover
Get the latest overview of the 2020 Defender features and specs. Want to know more about Land Rover military history, learn about the Land Rover logo, or absorb some Land Rover fun facts? Land Rover Freeport is your resource for all things Land Rover. When it's time to take home a new luxury SUV to Garden City or Massapequa, browse our new Land Rover inventory!
Learn More at Land Rover Freeport
You've probably heard how important tire rotations are for the longevity of your tires and Land Rover itself, but how often do you need to actually rotate them? Our Land Rover Freeport service department suggests rotating your tires after every 5,000 to 6,000 miles of driving or when you change your oil. If your tires…

New Range Rover Inventory The 2023 Range Rover is truly a sight to behold, combining contemporary Range Rover luxury with peerless refinement. Every journey is an occasion in the new Range Rover, delivering on the quintessential meaning of a luxury SUV. Refinement and Luxury in the 2023 Range Rover From Power Assisted Doors to massage…

New Land Rover Hybrid Inventory Our Land Rover hybrid inventory is full of great vehicle options, but there is even more to look forward to on the horizon. Land Rover is introducing a PHEV engine in 2023 that is primed to be even more powerful, swifter to charge and have longer electric range than its…