Part of the Weidinger Auto Group
The Land Rover Logo History and Evolution
The Land Rover logo–that globally recognized green oval icon on every new Land Rover you see driving around Rockville Centre–hasn't changed too much over the years, even after going through a few ownership changes and being bought by the Tata Motors. Like the models the logo appears on, the design reflects the British car manufacturer's aesthetic of elegant simplicity and clean lines. Learn more about the Land Rover brand icon at Land Rover Freeport near Garden City.
---
---
Land Rover Logo Evolution
1948-1968: When Land Rover was founded, the original logo was a dark gray oval logo with a silver border and text. The silver zig-zag line through the words "Land Rover" was more pronounced originally, and the words "Solihull Warwickshire" and "England" appear in opposite corners to signify the Land Rover headquarters.
1968-1978: The Land Rover colors on the logo changed black with silver text. The oval became rounder, the "Solihull Warwickshire" and "England" text was removed, the Land Rover logo font became bolder, and the zigzagging streak was broken up into two small symbols.
1978-1986: The color of the logo changed to a forest green, with gold text and border, while the general design inside the oval stayed the same.
1986-Present: Today the Land Rover Logo is a classic emerald/forest green, which some would call a British Racing Green. The border and text color changed to white so it pops out from the rich green background.
Jaguar Land Rover Logo: While Land Rover is now under the unified company Jaguar Land Rover, this parent company does not really have its own logo. Whenever Jaguar Land Rover is visually represented, it simply shows the Jaguar logo on the left and the Land Rover logo next to it on the right.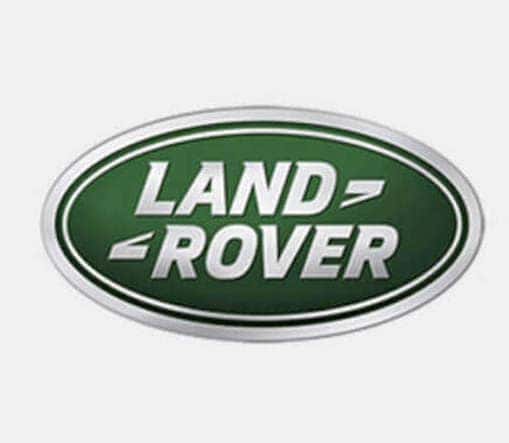 Land Rover Logo Meaning

While there aren't any official statements from Land Rover about the meaning behind the logo designed by co-founder Maurice Wilks, there are a few speculations that could be close to the mark.
Shape: Rumor has it that the oval shape of the logo was inspired by a tin of fish, which the designer Maurice Wilks was eating for lunch at the time.
Color: The green may symbolize nature and a Land Rover model's ability to get you out of the city and off the paved roads. It may also be an homage to the British Racing Green color that was used on vehicles to represent Britain in international motorsports.
Zigzag: Some believe that the original streaking line that developed into two symbols flanking the text is an abstract representation of the Land Rover slogan "Above and Beyond."
Learn More About Land Rover History at Land Rover Freeport
Get more fun facts about Land Rover when you visit Land Rover Freeport near Massapequa, or find out how fans are reacting to the Land Rover Defender, which is making a return in 2020.
Search
Find Your Vehicle
Search By Keyword
Search By Filters
Share
Share This
Choose How To Share: