Car Leaking Advice

If you've noticed that your vehicle is leaking while you're driving around Massapequa or a warning light appears, you probably have two questions on your mind: One, why is your car leaking? And two, what exactly is leaking from it? Even if you don't have a Land Rover , Land Rover Freeport can help you answer both of these questions:
Pink/Red Fluid: If you see pink or red fluid leaking from your car, don't worry. It's likely either power steering fluid or transmission fluid. Our highly-qualified technicians at Land Rover Freeport can help diagnose whether the problem affects the transmission or power steering system.
Dark Brown Fluid: Another slightly disgusting appearance, dark brown fluid typically involves issues with either brake fluid or motor oil. Motor oil turns dark brown and becomes more viscous after a significant amount of time. Either of these issues can result in potentially life-threatening problems, so be sure to take your vehicle into a service center as soon as you notice dark brown fluid.
Light Brown Fluid: Typically, light brown fluid indicates either motor oil or gear lubricant. The way you can tell is that gear lubricant has a significant odor, while motor oil only smells if it is on fire.
Green Fluid: The presence of green fluid is usually a clear indication of antifreeze leaks. This problem is often caused by loose hoses or clamps. Make sure you're using the right antifreeze by checking your owner's manual.
Blue Fluid: Blue fluid is 99.9% of the time windshield wiper fluid. This is an easy fix as our Freeport technicians can quickly identify leaking components and patch the system up to ensure it does not continue to leak.
Clear Fluid: Fortunately, clear fluid leaks are nothing to be worried about. In fact, if you notice clear fluid, Land Rover Freeport has some good news for you: Your vehicle's air conditioning system is working properly, and the fluid you've noticed is simply condensation emitted from this system.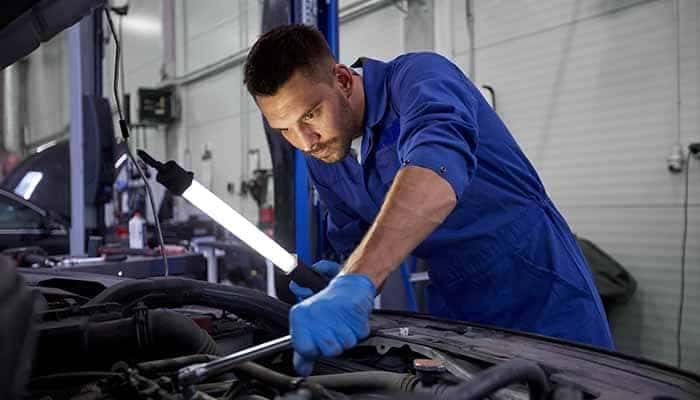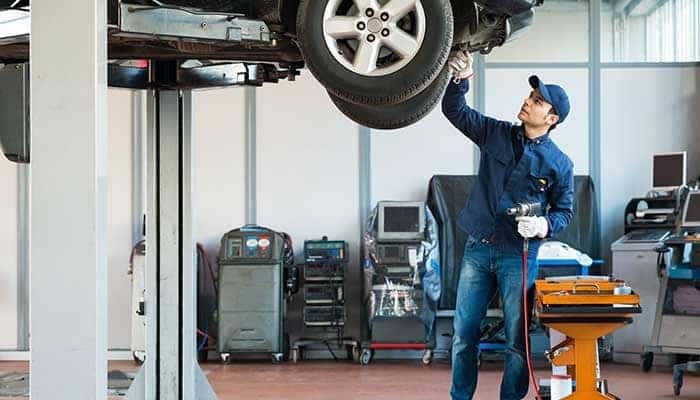 Get Great Deals on Service at Land Rover Freeport
Whether you're looking for an affordable oil change, a new set of tires or other maintenance work, Land Rover Freeport is here to help with great deals on affordable service performed by highly-qualified technicians. Schedule service online to get started!
---
Land Rover Freeport Service Specials
---
More from Land Rover Freeport
You've probably heard how important tire rotations are for the longevity of your tires and Land Rover itself, but how often do you need to actually rotate them? Our Land Rover Freeport service department suggests rotating your tires after every 5,000 to 6,000 miles of driving or when you change your oil. If your tires…

New Range Rover Inventory The 2023 Range Rover is truly a sight to behold, combining contemporary Range Rover luxury with peerless refinement. Every journey is an occasion in the new Range Rover, delivering on the quintessential meaning of a luxury SUV. Refinement and Luxury in the 2023 Range Rover From Power Assisted Doors to massage…

New Land Rover Hybrid Inventory Our Land Rover hybrid inventory is full of great vehicle options, but there is even more to look forward to on the horizon. Land Rover is introducing a PHEV engine in 2023 that is primed to be even more powerful, swifter to charge and have longer electric range than its…