Land Rover Tire Alignment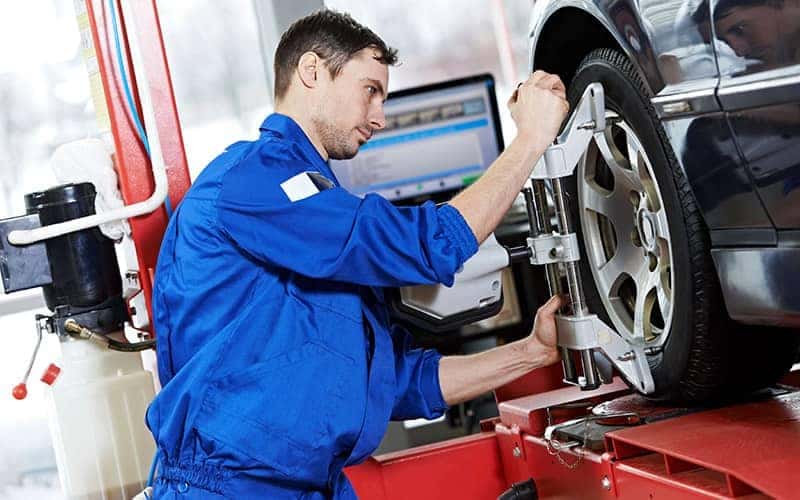 From routine maintenance to complicated repairs, our Land Rover Freeport service department does it all. Those in the Freeport area can rely on our service center to take care of all their automotive needs including tire alignments.
During an alignment, we ensure your front wheels' camber, caster and toe angles all match your model's specifications, which optimizes stability and responsiveness while also reducing tire wear. A tire alignment is very important for your vehicle's performance, especially if you haven't had one in a while.
When Should I Get a Tire Alignment?
The typical recommended timeframe for a tire alignment is every two to three years, given that your vehicle continues to run smoothly. However, there are a few telltale signs that your Land Rover is in need of a tire alignment, and if you experience any of the following, we recommend visiting our service center as soon as possible:
Vehicle pulling to one side
Instability at highway speeds
Tires wearing unevenly
Inability to drive straight without adjusting the steering wheel
Constant encounters with bumps and potholes
Not only does misalignment take away your vehicle's ability to perform at its highest level — it could also be a danger to you, your vehicle, and others on the road. If you are unsure whether you have an alignment issue or not, our expert service technicians can evaluate your vehicle and take it from there.
Schedule Tire Alignment Service at Our Freeport Service Center
If your Land Rover needs tire alignment service, schedule a service appointment with us at our Land Rover Freeport service center. If you have any questions about our service department or any of the other automotive services we provide, feel free to contact us at Land Rover Freeport.
We look forward to seeing you at our Freeport service center soon!