Part of the Weidinger Auto Group
Land Rover models are notorious for bringing an exterior look to the Merrick North roads that defies the norm, but what most drivers don't realize is the interiors of these models are also packed with classic style and impressive conveniences for a drive that enhances the way you explore the road. The 2017 Land Rover Discovery Sport interior brings to life comfort and technology that you'll absolutely love, so learn more about the features and amenities it offers below.
Stunning Interior Features
Grained Leather Seats
Use the finest materials to provide a soft and comfortable seat you'll always enjoy
Power 10-way Seats
Make it easy to adjust to the comfort level of your choosing
Memory Seats
Allow you to quickly find the comfortable position with just the push of a button
Ambient Lighting
Creates an interior style that cannot be mimicked by other models
Aside from having comfort and style, the new Land Rover Discovery Sport also includes impressive technology features to give your drive through Merrick South more excitement.
Navigation system helps you get where you need to go with real-time traffic updates and easy-to-follow directions
Audio system provides beautiful sound through perfectly placed speakers to give you concert-quality experiences
USB ports and power outlets are found throughout the cabin so you can always stay completely connected
8-inch touchscreen makes it easy for you to access the information and entertainment you want
Choose Land Rover Freeport Today
Most models cannot claim to have a cabin as sophisticated and full of life as the 2017 Land Rover Discovery Sport interior. This new model delivers the features you want in a sporty package. Learn more about vehicle specials!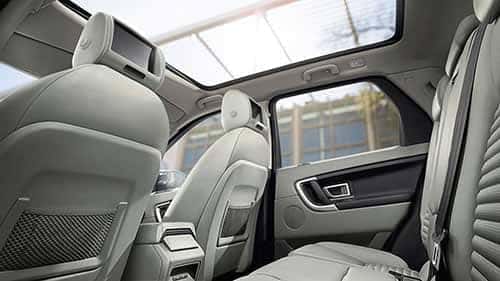 Explore More Land Rover Discovery Sport Features
Share
Share This
Choose How To Share: